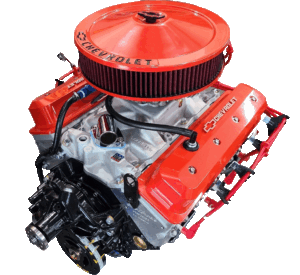 Detail Video Chevy 87-95 TBI 350-400 HP Silverado 
350 Late Style Roller Cam 4 bolt main Block With Full Round Seal.
GM 350 Crankshaft Balanced
Performance Connecting Rods with ARP 45,000 PSI Bolts.
9:73 Hypereutectic Pistons requires 90 Octane.
Now with Holley Performance 670 cfm 100% new TBI unit.
Performance aluminum Intake manifold.
Speed Pro Moly Rings.
Comp EFI. Camshaft: Duration @ 050,222/232, Lift 478/.501  114 Lobe separation
Melling 3 Piece Timing Set.
Clevite Trimetal Engine Bearings.
Melling High Pressure Oil Pump.
Edelbrock Performance #60859 Heads with Screw in Rocker studs.
195 CC Intake Runners, 64 CC Combustion
Hard Seats And Guides For Unleaded Fuel.
Hardened Pushrods,
Roller Lifters Hi Rev.
Roller Rocker Arms.
New Oil Pan, Timing Cover,
Aluminum Valve Cover Choices as per our website.
New Harmonic Balancer.
New Flexplate For Auto Trans (Std Trans Flywheel $325 Extra).
Balanced, Blue Printed Assembled And Painted.
New Small Body Electronic Distributor  with MSD coil
New Champion Spark Plugs, Taylor Ignition Wires,
New Thermostat Chrome Housing.
New Water Pump.
New Dip Stick, Tube, And Oil Filter.
Complete P.C.V. Ventilation System.
All Valves Adjusted.
Engine Arrives ready to run right out of the box.
All items above are included in this Package.
$13,220.00  plus Choice of options below.
Packaged And Crated No charge.
No Core charge, Sold Outright
Additional cost of Options Below
Alternator system Add $990.00
Alternator and AC add $2,180.00
Alternator and PS add $1,970.00
Alternator PS and AC add $ 2,540.00
Custom Aluminum Valve covers & Air Cleaner Add $450.00
Standard Balanced Flywheel add $325.00
High torque starter add $240.00
Order desk  908-323-5847 Call between 10 AM – 8 PM Eastern time
bruce@enginefactory.com