555 Chevy Big Block
650 Horsepower
Hang on to your seat!
Astounding 620 Lbs of Torque!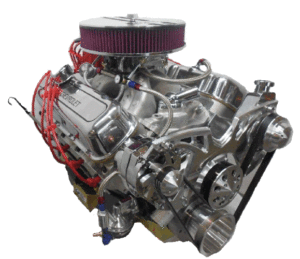 Replaces any big block without modifications.Click on image for larger view
Shown With Optional March Serpentine System
Watch 555 Chevy Big Block 600 HP Live Run Test
TURN KEY ENGINE.
ARRIVES READY TO RUN RIGHT OUT OF THE BOX!!
4 Bolt Main Engine Block 4.500 Bore X 4.25 Stroke
New Eagle 4340 Steel Crankshaft
New Forged Steel Connecting Rods
Mahle Forged Pistons 10.4 To 1 Compression
New Moly Rings
Comp Cams Double Roller Timing Set
New Dart Pro 1 Aluminum Cylinder Heads
2.25/1.88 Severe Duty Stainless Steel Valves
Hardened Seats And Guides For Unleaded Fuel
Hydraulic Comp Cams Hydrualic Roller Camshaft, Duration @ 050 240/248, Lift 588/594
Comp Cams Hydraulic Roller Lifters
Clevite H Series Bearings
Comp Cams 1 Piece Hardened Pushrods
Comp Cams Roller Rockers 1.7 Ratio
Melling Oil Pump
Fel-Pro Gaskets
Pro Race Harmonic Balancer SFI
New Flexplate For Automatic Transmission (Standard Flywheel Extra $250.00)
Canton Oil Pan
Timing Cover And Baffled Chrome Valve Covers
New Dart Intake Manifold
Quick Fuel 850 CFM Carburetor
New High Flow Water Pump
New Fuel Pump
MSD Race Prepped High Energy Ignition Distributor
New Spark Plugs Gapped And Installed
Taylor 8mm High Temp Resistant Silicone Wires
New Chrome Thermostat Housing
14 Inch High Flow Air Cleaner
PCV, Grommets & Breather Installed
New Braided Fuel Lines And Gas Filter
Oil Filter, Dipstick And Diptube
Ignition Timing Set, Carburetor Fully Adjusted
Mini High Torque Starter
Hot Run Tested And Dialed In Place
Free 40 Minute Installation DVD
Internally Balanced, Blueprinted And Painted With A High Temperature Enamel Paint
Packaged And Crated For Shipment
$17,895.00
RECOMMENDATIONS FOR OPTIMUM PERFORMANCE
Headers
370 Gears
4 Core Radiator
Serpentine Belt System for your Alternator, Power Steering & A/C
Chevy Valve Cover, Air Cleaner, Belt Systems, and Color Choices
Packaged And Crated No charge.
No Core charge, Sold Outright
Additional cost of Options Below
Alternator system Add $990.00
Alternator and AC add $2,180.00
Alternator and PS add $1,970.00
Alternator PS and AC add $ 2,540.00
Custom Aluminum Valve covers & Air Cleaner Add $450.00
Holley Sniper electronic Fuel injection add $1,975.00
Standard Balanced Flywheel add $325.00
High torque starter add $240.00