Look over their cars, watch videos they supplied after installing an Engine Factory Engines built especially for them! 
Click on customer images below for larger detail view
September 20 2023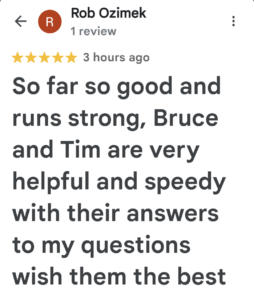 ---
Sept 14, 2023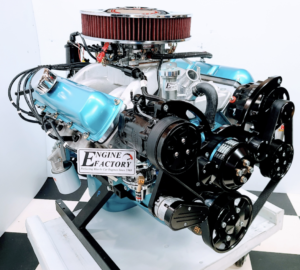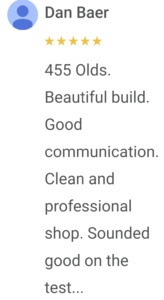 ---
August 31, 2023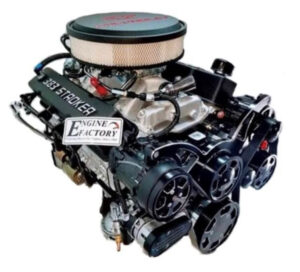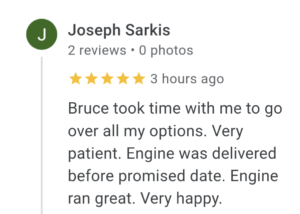 ---
August 28, 2023
---
J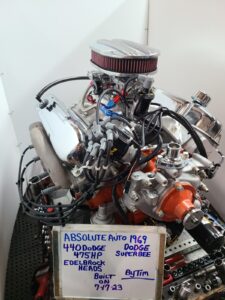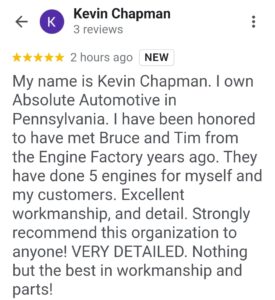 ---
July 12 2023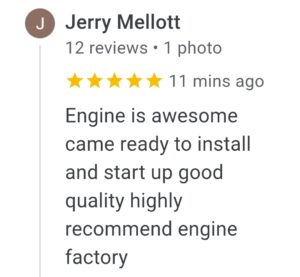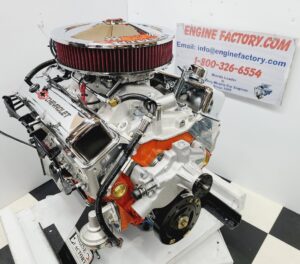 ---
June 30 2023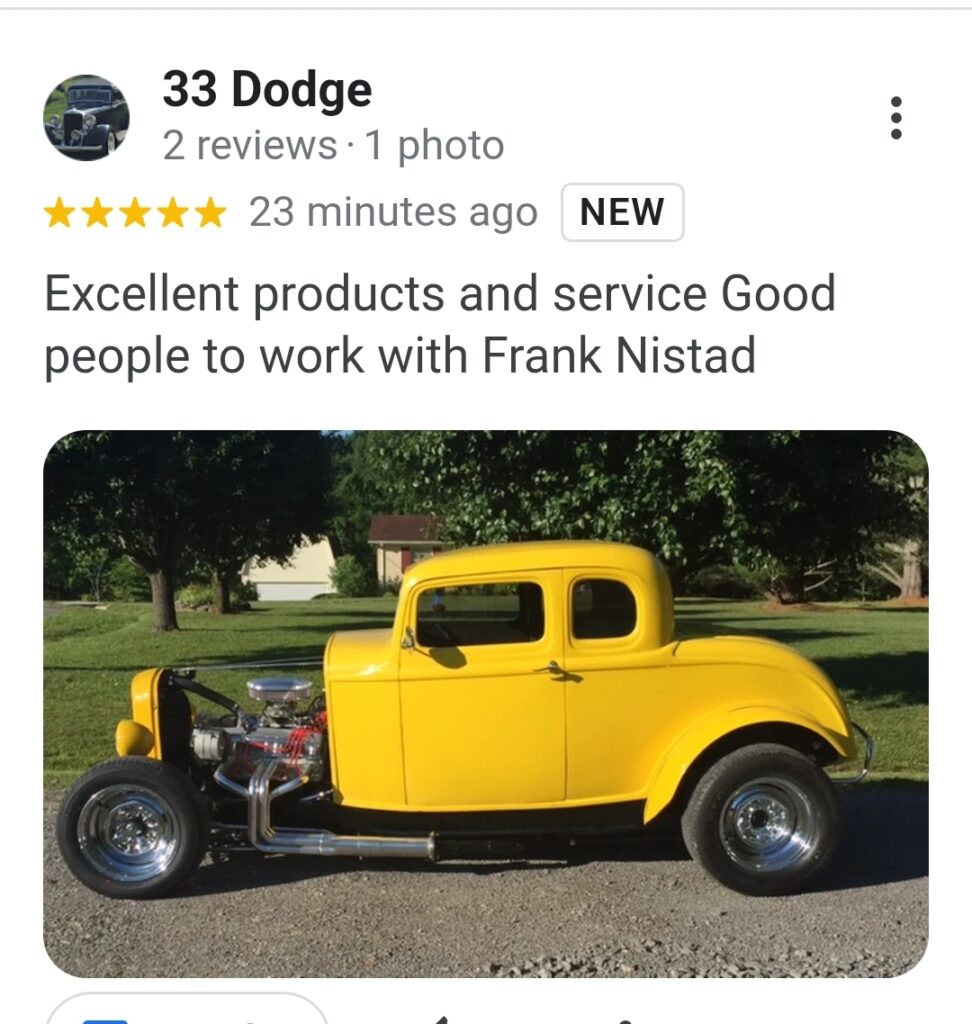 ---
June 26 2023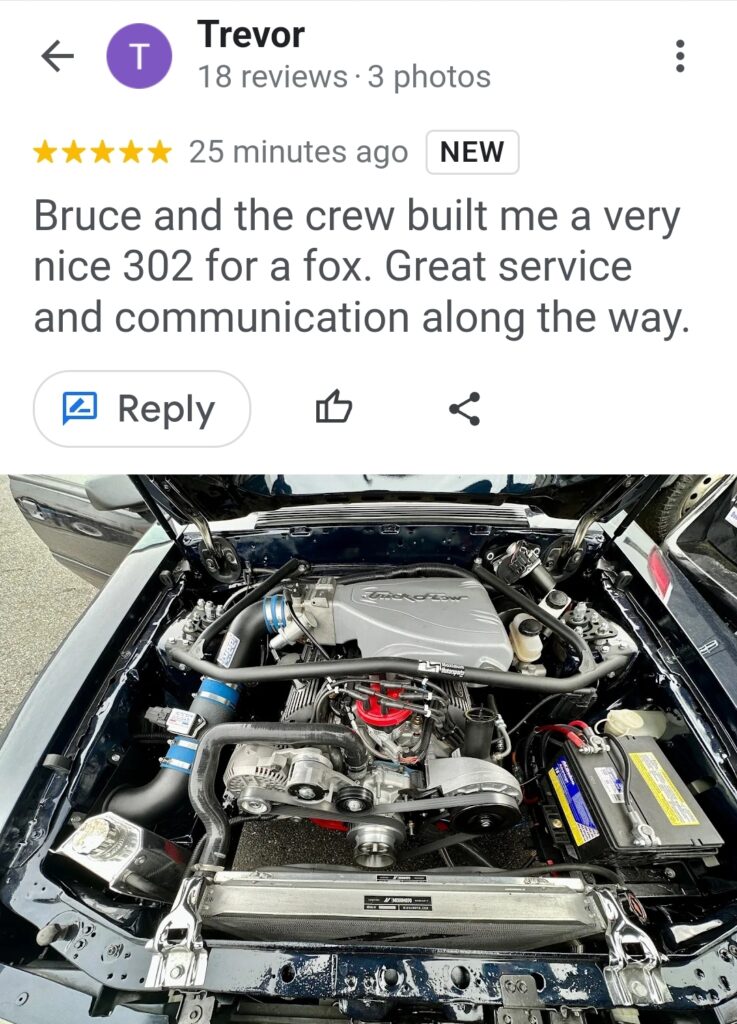 ---
JUNE 26 2023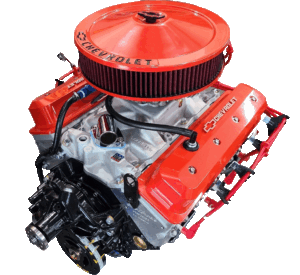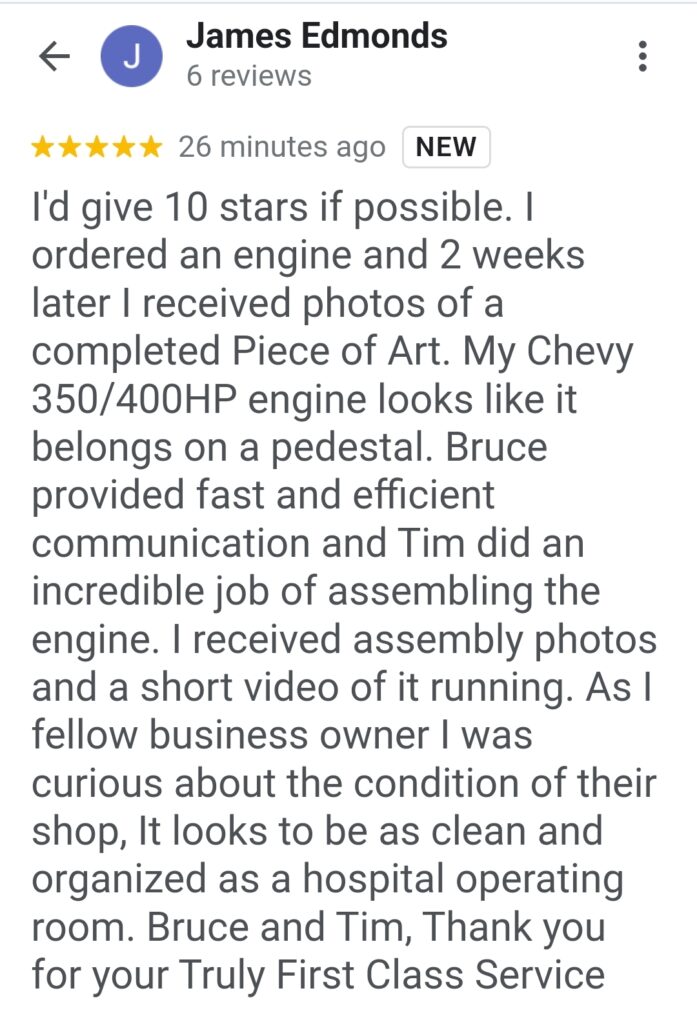 ---
June 10, 2023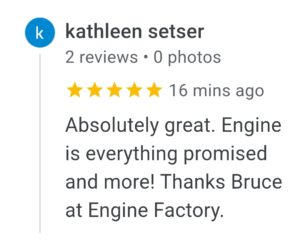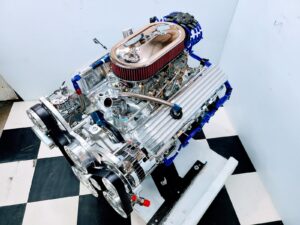 ---
MAY 18, 2023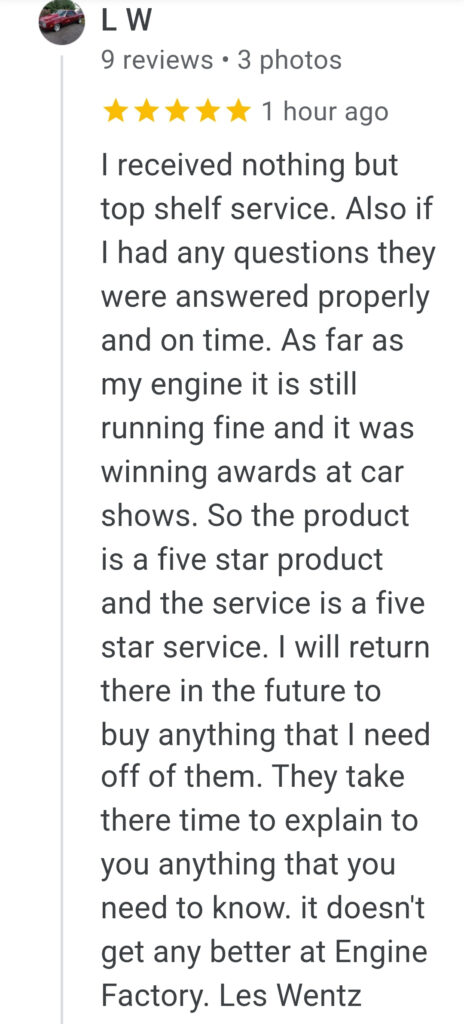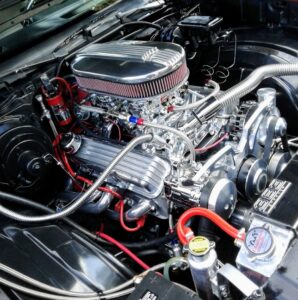 ---
MAY 05, 2023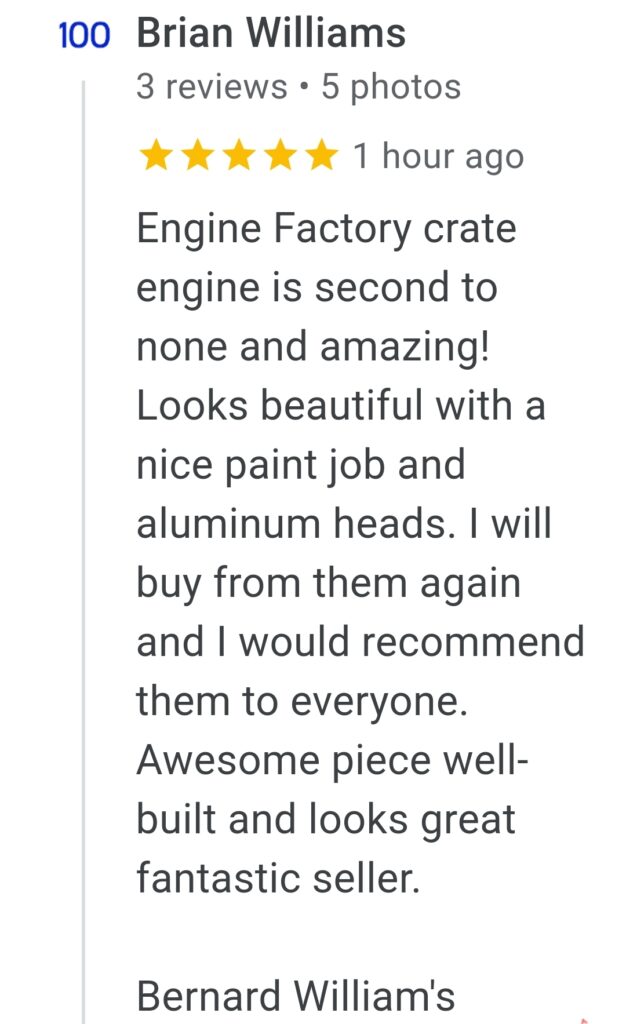 ---
MAY 04, 2023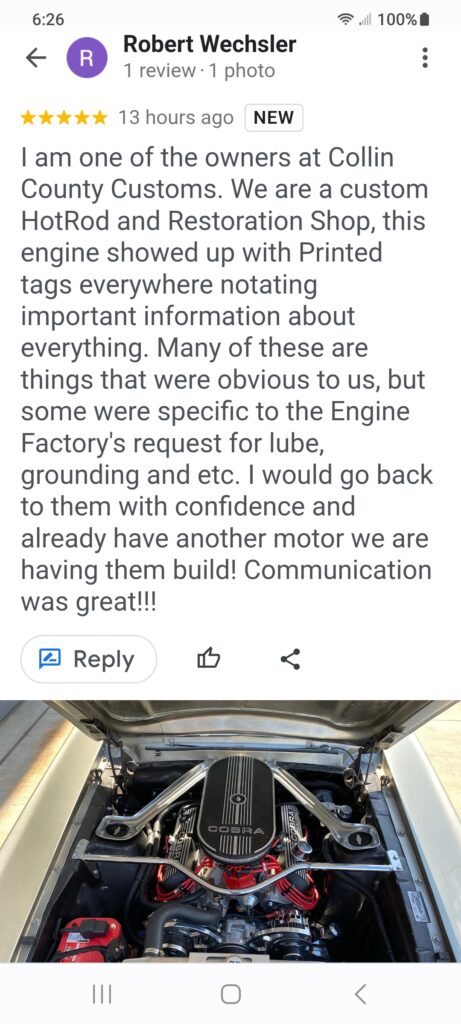 ---
MAY 04, 2023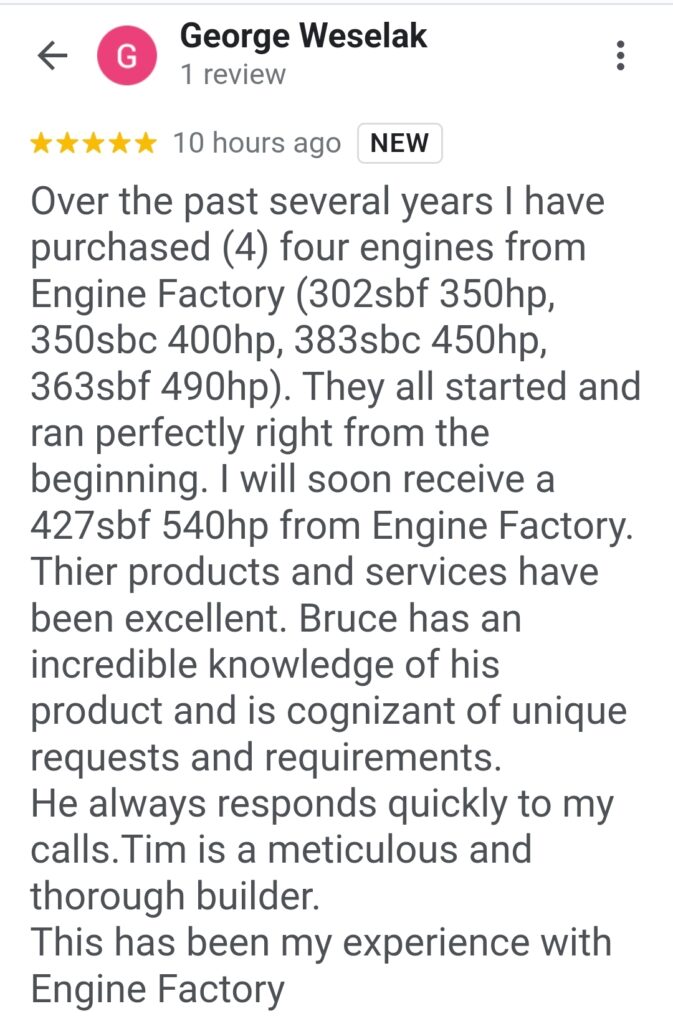 ---
May 04, 2023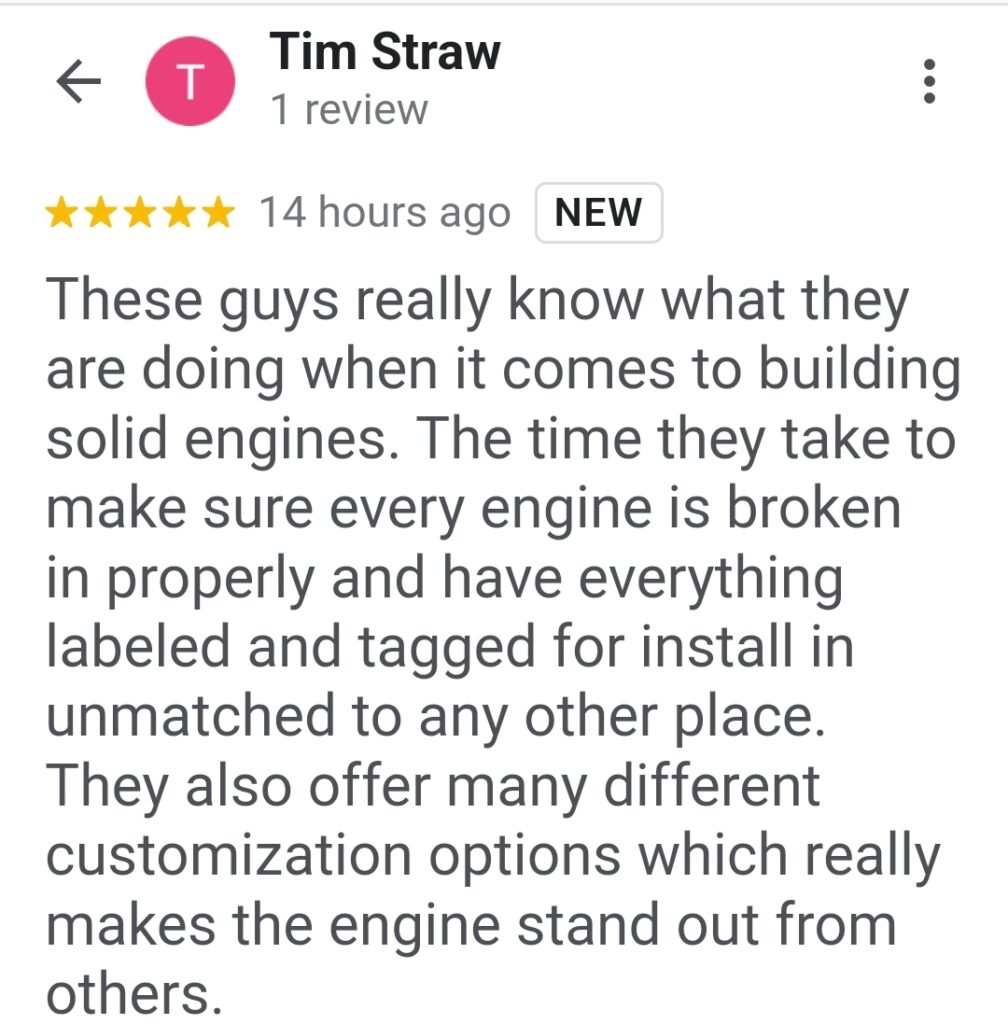 ---
May 04, 2023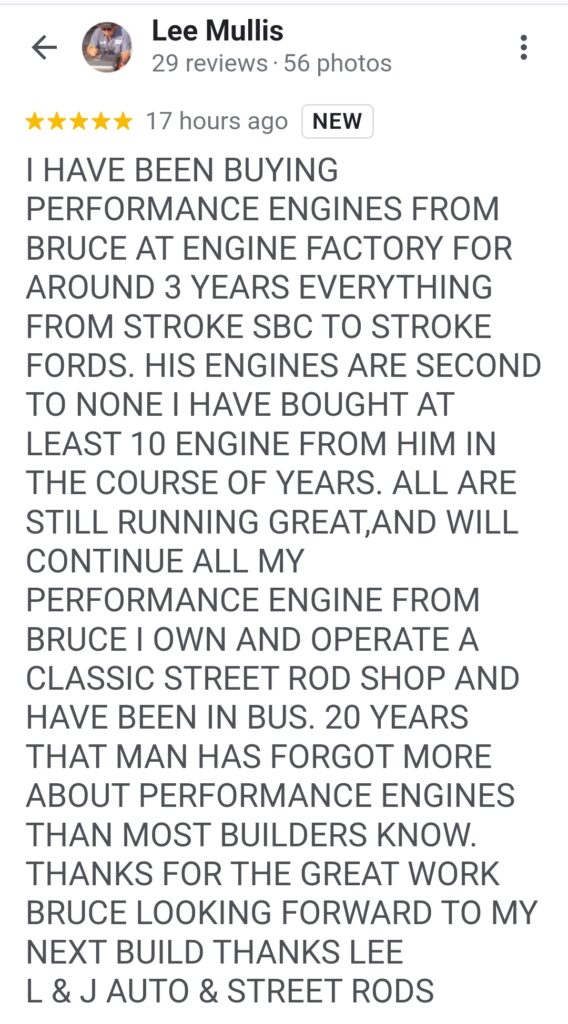 ---
May 04, 2023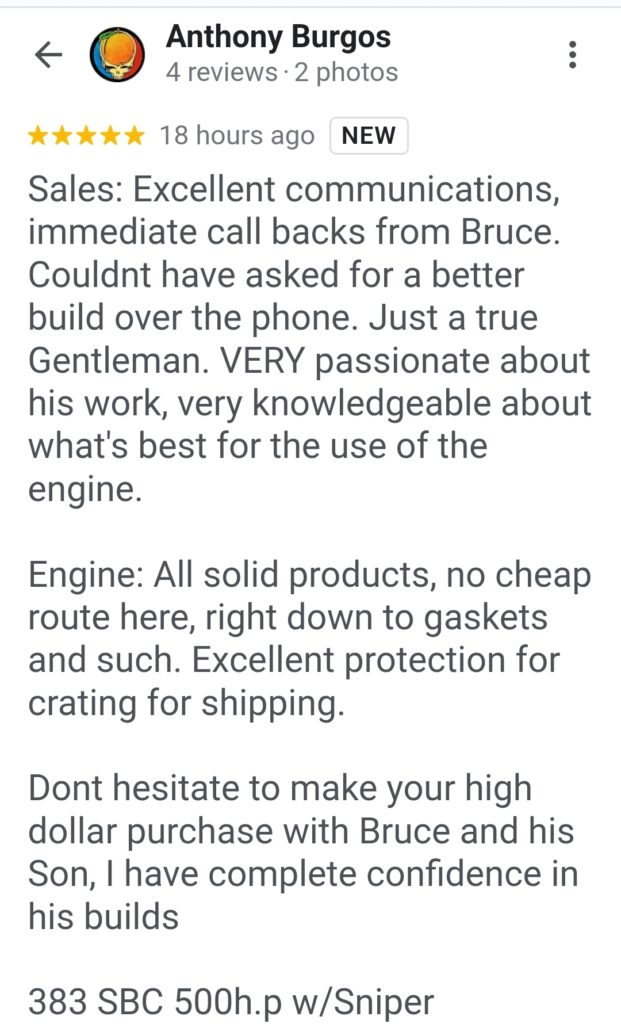 ---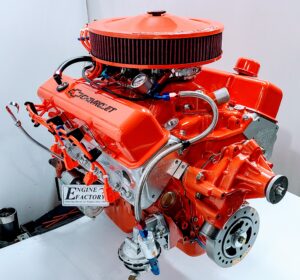 Hi, Guys Kenneth Brittingham here, 2/20/23
Tim and Bruce Built me an Awesome 350/400hp.
engine for my 1969 Chevy El Camino, That was
two years ago, and the engine still Purrs like a kitten.
The information that Bruce asked initially when he took
down the order was crucial for a successful Relationship,
Tim did an excellent job on the build, everything turned
out 100% perfect, I would recommend anyone Purchasing
a Muscle car engine should talk to these guys you wont
be disappointed. They put out a quality product at a fair price.
Thanks again Ken
---
February 12, 2023
Bruce & Tim
I want to thank you for your excellent customer service, quality and attention to detail.
You were very communicative and responsive..  Specifically, you were helpful in recommending.
the right package for me based on my specific application.  The engine sounds and looks great and came at a very fair price.
I also love the fact you are a small family owned business. This is what our country was built on.
Thanks again,
Walter Hinz.
---
351w 400hp Happy customer from 18 years ago still going strong: https://drive.google.com/file/d/1lzqbT_2eJDNyQWuQErF858hghh21N4oF/view?usp=share_link
---
I just recently had Engine Factory build me a 302 390hp crate for my 77 F150. From the videos they post online it looks and sounds amazing. I appreciated any questions I had answered very promptly. The whole experience was very pleasant, and I can't wait for my engine to get installed.
Thank you to everyone who was involved!
Kevin Harrison
Harrison Contracting
Electrical And Plumbing Service
779 The Hook Rd
Warsaw, VA 22572
804-313-5527
kharrisoncontracting@gmail.com
---
I would like to thank Bruce and Tim for a well built 350/440hp engine.  Bruce was very knowledgeable and available to answer any questions I had pertaining my engine. When my engine arrived, ready to run out the box, it was packaged very well on a crate with instructions on every part for installation. Beautiful engine guys keep up the wonderful customer service and I would definitely be back for my next engine build.
Kerry
---
I was very impressed with the service and quality from Engine Factory.
I bought a 427 Ford Cobra with a Holley Sniper and it's a beast.
I couldn't be more pleased.  Bruce at Engine Factory was easy to work with,
detail oriented, and accessible as needed.
I would highly recommend anyone needing a custom crate engine to give Bruce at Engine Factory a call.
Tom Christie
---
Our first time working with them after the last builder went bankrupt and left our customer waiting with no motor. These guys came in clutch, and we couldn't be happier with Engine Factories work. Our customer will be really happy with this set up for his 1968 Shelby G.T. 500 Eleanor Mustang.
---
Bruce, we received the engine last week. All looks good.
I personally wanted to thank you and Tim for all you did.
The pics, videos, etc. are great and will go into a picture file for the build of the Mustang. You run a class act company, and can't wait to get that beautiful piece of jewelry in there.
We will be in touch when we start installation,
We will send you pictures as well.
Thanks Again!!
Mark Richardson at Kustom Kar
---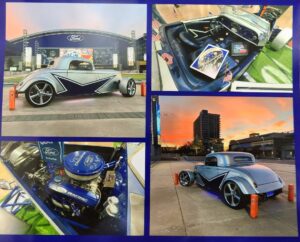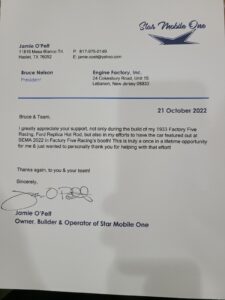 ---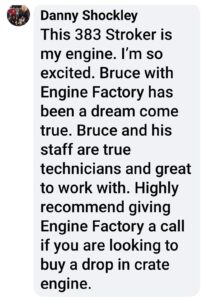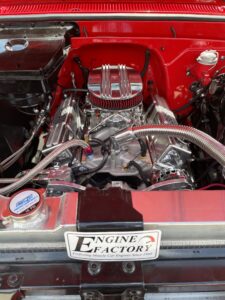 ---
From: Bill and Claudia Ritter
Sent: Thursday, August 4, 2022
"I purchased a crate motor from Engine Factory in 2012.  This week, while compiling documentation for the purchase, I was unable to locate the original invoice.  I contacted Bruce who, initially, was less than optimistic about locating the invoice, yet was more than willing to search for it.  With the limited information I provided, Bruce was successful in locating the invoice and provided a copy the next day.  Much appreciated!"
Thank you, Bruce!
---
I found the Engine Factory on Facebook. I watched & read everything that was on there. I then went on the website. I also read Everything on there. No one has more knowledge than they do. I talked to Bruce many times. He was always Courteous, & eager to help me with any, & all questions. I have even emailed him late at night. (Sunday @ 10:30 pm). He responded in ten minutes!! I asked him why he responded. Bruce said: Customers always come first. He's been a great salesman to work with. I got to see some pictures of the engine, as it was being assembled. When completed, I got to see the final product, & watch them run it on video. It's all preset, & broken in, ready to run. They crated it up & shipped it to me. I can't wait to get it installed & drive it. Thank you Bruce, & All your team. Brad Schuler
Review By: Brad Schuler (camaro@sio.midco.net) – Zip Code: 57106
Submitted: 06/16/2022
---
Engine Factory:
If you would have seen my 42-year-old engine that's been sitting in storage for over 20 years – you would have said "your dreaming".  That's exactly what I feel like – "I'm dreaming".  The Engine Factory did an AMAZING job rebuilding my 1980 Camaro Z28 engine while more than doubling the horsepower.  It looks unbelievable and sounds great.  They sent me pictures of the process and sent a video when it was completed and of being run tested.  If this engine runs half as good as it looks – I'm on cloud nine.
The team is very responsive, keeps you in the loop and takes your requests and changes the build with no issues.  They changed my crankshaft so it's not too loud and changed the ignition wires and I only had one discussion with them.  Very professional and knowledgeable.
Now, I'm not done.  I couldn't believe the instructions they sent along with the final build details.  They told me what parts to replace, what my installer needs to look out for and tips on running and installing the engine.  That was worth as much as the build itself.  I would not be too happy if my installer missed something small and ruined the engine.
THANK YOU, ENGINE FACTORY !!  I CAN'T WAIT TO ACTUALLY DRIVE THE CAR ONCE IT'S ALL DONE.
Will be my turn to send you pictures and a video when my car is all done.
Larry
---
We have been doing business with Bruce for over 2 years we have purchased 9 or 10 engines.  He builds one of the best engines I have ever installed they are turn-key ready to run.  I will not buy from anyone else; I own a street rod shop in Orlando Florida. L & J AUTO AND STREET RODS
Thank you to Bruce and his team for A1 engines 
Regards,
Lee
---
"I was researching a small block high performance engine for my 69 corvette build. From the first call with Bruce I knew the Engine Factory was the place for me. They are knowledgeable and experienced. They delivered me a well sorted out, labeled 383 stroker 550 HP in Record time. The engine went into car flawlessly. These guys are not the cheapest but the best things in life rarely are. I would highly recommend this company."
Thanks for everything,
Don Shiffer
---
I first learned of Bruce and his company through a good friend of mine whom met Bruce last fall and the two of them engaged in car engine talk.  Leo has been around performance cars most of his life and he himself has a prized 1966 Corvette with a 502 big block crate engine.  The two of them engaged in "motor talk'.  Leo was very impressed with Bruce's knowledge about engine building, performance and the fact his family has owned and operated this company for so many years.  I had no idea Leo and Bruce ever met or knew each other.  In early March I mentioned to Leo I was considering buy a new engine for my Corvette.  Without hesitation Leo immediately put it out on the table "you should look at Engine Factory" as a result of his personal conversation with the owner and the knowledge exchanged between the two of them in that conversation.  I was contemplating another company which I called first and it was an immediate turn off for me as they tried instead to sway me into buying something already put together…. it didn't have the valve or air cleaner covers or components I actually wanted.  I would have had to change these parts myself.  When I called Engine Factory the owner himself answers the phone.  He asked me a few questions about what I was trying to do, what my goals were and the vehicle this engine would go into.  Right off he was very knowledgeable and already was aware of things that would and wouldn't work on this car due to its design and clearance issues, etc.  He honestly made me feel very comfortable about the purchase process and assured me of a great outcome.  I have emailed and called Bruce a number of times with various questions after initiating the requirements for the build and no matter how busy he was, he "always" took the time to answer my questions.  My engine is now being shipped and I should have it here in couple of days   From what I've experienced thus far I would highly recommend Bruce and his Engine Factory company.
Video in photo booth >> https://www.instagram.com/tv/CdRDyJTJj3n/?igshid=YmMyMTA2M2Y=
Steve Ringuette
---
Bruce at the Engine Factory is a consummate professional. From the initial inquiry to shipping of our new 302/350HP beauty, Bruce was available to answer questions and guide our decisions. We purchased this engine for my son's 1965 Mustang coupe, which previously had a 289 engine. Bruce helped us with the decisions regarding components and basically just made everything very easy. The best part is that the engine arrived 1 month earlier than anticipated – even in the post-Covid supply chain disaster. Congratulations, Bruce and your team, on excellence in customer service and quality!
We are waiting for the engine to arrive tomorrow and will photograph the engine with the mechanic and River and I will post to Socials…!  Will tag you! Sent to Engine factory 5/12/22
Thanks again!
Kimberly Blake-Roth
---
I'd like to thank the Engine Factory for building my 302. It was built just as I had ordered and looks great. The video's of the engine and of the engine run were outstanding. The build time was faster than expected and shipping to my rod shop was just as fast. Hats off to the Engine Factory I'll be sure to mention where my motor was built to all my friends recommend them for their next build.   Thanks so much for such a timely build and great service.  Steve Bailey
Click blue link Below, wait for video to start to play then click on video one time, then click twice for big screen and sound.
https://www.instagram.com/tv/Cci6vM5Jk-p/?igshid=YmMyMTA2M2Y=
---
Hello,
We often spend time sending messages of complaint or irritation but tonight I wanted to send a note of appreciation regarding the Engine Factory, a business located in Lebanon New Jersey.  A year ago, I undertook a project to restore a vintage Ford Bronco.  Along the way, I have engaged no less than 40+ sellers of parts, components, and services as I am set to complete the project next month.  The Engine Factory has easily been the best business I have dealt with throughout this process.  Bruce Nelson has been exceptionally professional, knowledgeable, a great communicator, and the work he and his shop have delivered has been first class from start to finish.  It was such a pleasure doing business with Bruce and his team that I wanted to drop a note of recognition and appreciation.  I hope you can find a way to pass this along to Bruce with some thanks for the business I am sure he is bringing to New Jersey.
Video in photo booth >> Click blue link Below, wait for video to start to play, then click on video one time, then click twice for big screen and sound.
Sincerely,
Brian Simons
---
Another one of our happy customers. Check out his Awesome Collection, from around the World Awesome!!! https://jjdluxegarage.com/
---
Hi Bruce,
I hope all is good with you. The video attached was taken in late October at Lucas Oil Raceway in Indianapolis (Brownsburg). I turned 6.6 seconds in the 1/8th mile with the new 434 stroker that you built for me. Not bad for only the second time down the track with this new motor. With a few adjustment's I might possibly get in the mid to low 5's with it in the 1/8th mile which is very respectful !
I was only able to take a few passes before the season ended but was very impressed with this motor. Can't wait for spring to get here and get the Nova back on the track !! Please take care and stay in touch !
Thank you, Ron
Ron Cunningham|
Marketing Director
email:  ron@vester.com
---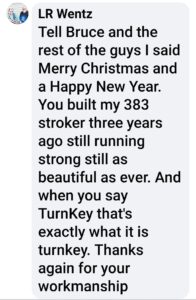 ---
Bruce and Tim
I really have to say how impressed I am with how the engine looks, how it ran in the video, your communication throughout the process, the way you ship and communicate the tracking process and how you show all of the wonderful power plants you put on Facebook. This is a piece of artwork that will set my Mustang apart from most others. Please thank Tim for doing a wonderful job and I will forward photos of my finished project hopefully by spring.
Thank you again,
Ken Smith
---
Bruce . thank you for your professionalism ; its been a pleasure dealing with you .
I sincerely appreciate all your follow thru. looking forward to the install & initial startup.
I will be in touch about the engine for my next Project  ( A Ford 1954 F-100 ) .
Take care  Sincerely Jim Florez.
 Jim your  Video's >>> Click blue link below wait for picture to open, then click one time   Then click video 2 quick times for full screen and sound. 
Live Run video  https://www.instagram.com/tv/CTNWrf_JIub/?utm_medium=copy_link
Detail Video   https://www.instagram.com/tv/CTH-OoYgr3f/?utm_medium=copy_link
 – – – – – – – – – – – 
Jim Your business is appreciated
Regards
Bruce, Tim, Alex, and Tucker
---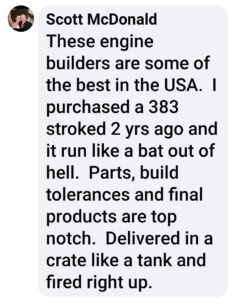 ---
Good afternoon, Tim, Alex and Bruce, I just want to say really and truly appreciate you 'all  exceptional engine building skills you are in my eyes are the best in the business without a doubt!  The engine sounds and look awesome it's a beast without doubt!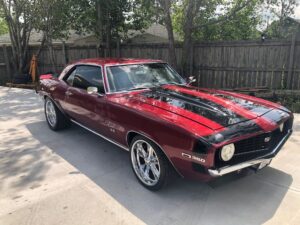 Thanks again as always!
Hooah! 2nd to none
VR
Bernard Williams
Email : Bernard77@hotmail.com
Click blue link below wait for picture to open, then click one time, then click video 2 quick times for full screen and sound.
Live Run video >> https://www.instagram.com/tv/CSHeVV0Af5l/?utm_medium=copy_link
Thanks again for letting us Build an Awesome engine for Your Award winning 69 Camaro.
Regards Tim, Alex, and Bruce
---
Multiple Best Engine Winner
Bruce and his Team can put a engine together the way you want it pick out anything you need and they will get it for you quickly. They don't mess around they do their job and get it back to you in and good time. I never dealt with a place that was so nice and consider it. Even answer your questions if you have any. Keep in touch with you every step of the way. From their shop to yours nothing but excellent. I want to take the time to thank Bruce and all the guys at his shop for doing such a wonderful job. Now I'm a proud owner of one of the best build engines on this planet. Thanks again to for all your expertise a very satisfied customer and will return in the future.
Les Wentz
---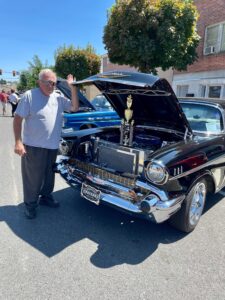 Hello! Thought you guys would like this.
My dad just won a trophy for "Best Engine" at a car show.
Thanks your guys awesome
Workmanship.
Sincerely, Katy Curio (Blevins)
---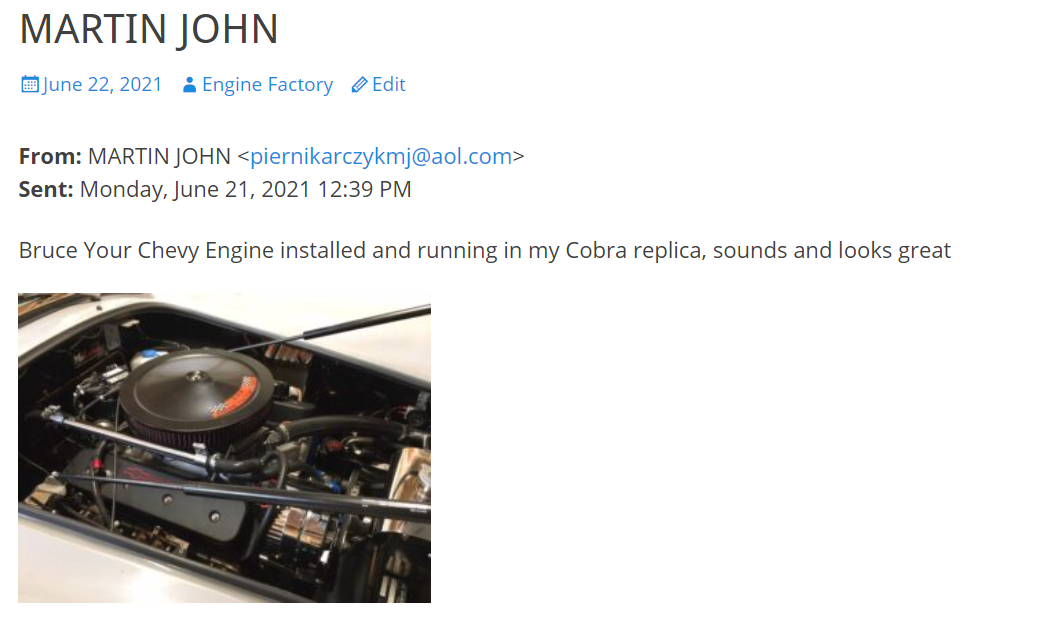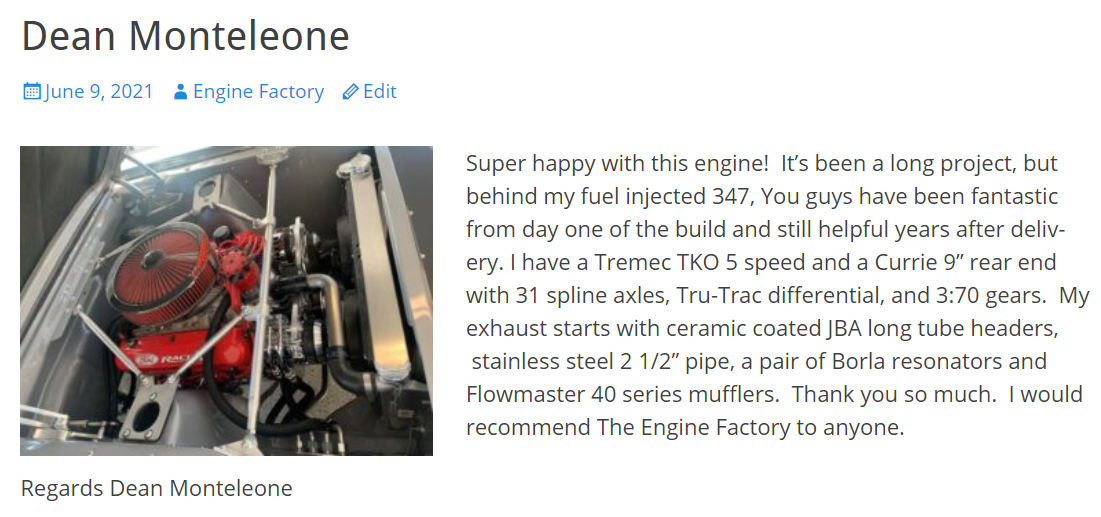 UK Ford Capri Perana 302    Sent: Monday, April 12, 2021 10:09 AM .

Dear Engine Factory,

After many years I finally completed the Ford Capri mk1 V8 Perana full restoration.

I am so proud that you supplied the 302 373 bhp engine which is now powering the historic race/rally car. It's an awesome engine.

Thank you

Kind regards

Gary Matthews

Wales, UK.
---
Bruce, Tim, and Alex
I have no words. The impeccable job you and your organization has done for me is greatly appreciated. I will no doubt do my absolute best to refer The Engine Factory to all my muscle car customers. I truly believe we will have an amazing relationship in the future ! Please let your entire crew know how much I appreciate everything. All true words !
1966  400 Oldsmobile 442 Live Run video Ran great
live run video      https://www.facebook.com/watch/?v=144808874220372
Detail Video        https://www.facebook.com/Musclecarengines/videos/437848073962924/
Kevin Chapman
Absolute Automotive
---
Thanks to Bruce and Tim for building an awesome small block for my 69' El Camino.
Just what it needed to finish it off. Looks great and performs even better.
Great job guys. I'll be letting everyone know where to get theirs.
Check out the video below
https://www.facebook.com/119427678989/posts/10164228585828990/
Thanks again,
Ken Brittingham
---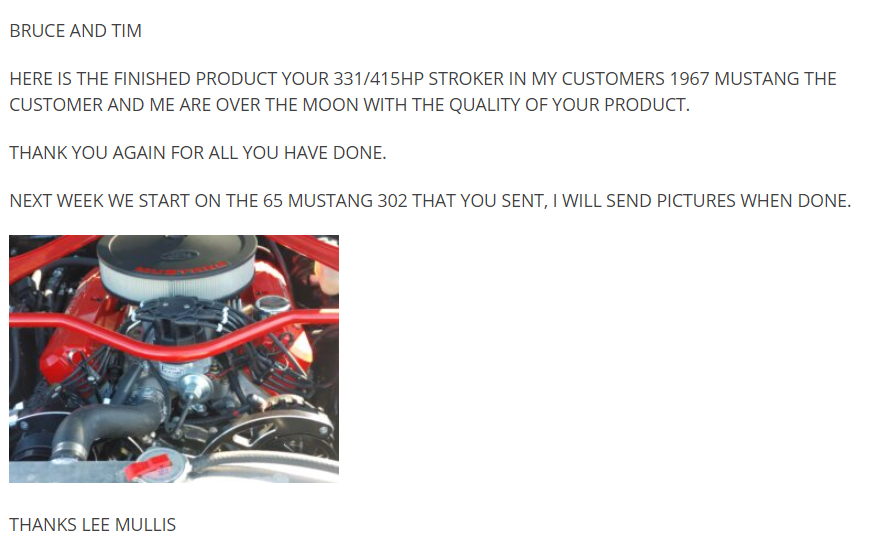 ---

---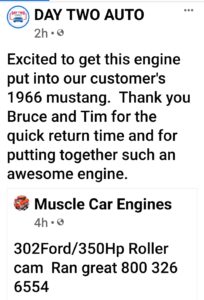 ---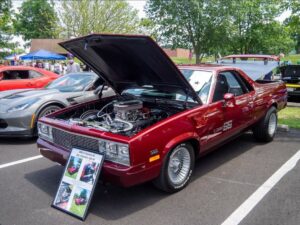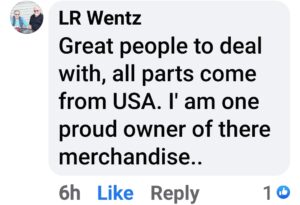 ---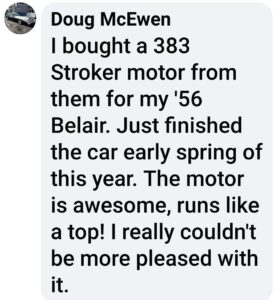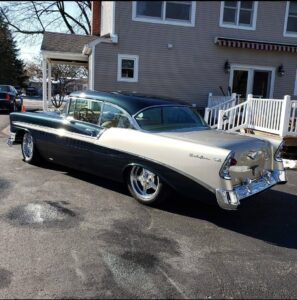 ---
Ian Duncan purchased an Engine Factory – 331 stroker installed in his '67 Mustang rally car about 10 years ago
He won the east Africa Rally championship 6 times. A couple of times in the mustang beating out Porsches and big dollar race teams……… Mustang 2009. Ian Duncan. Winning
Talk about grueling,  race is over 3,100 miles long over 10 days through the hot desert of Kenya and Tanzania
Thanks Engine Factory for a great engine
---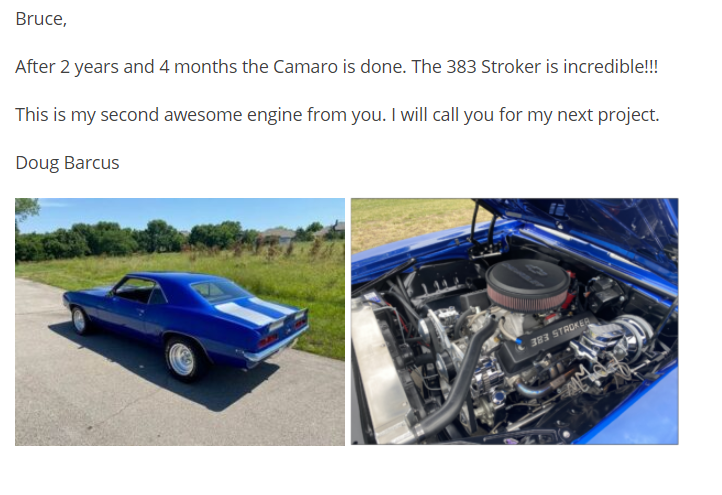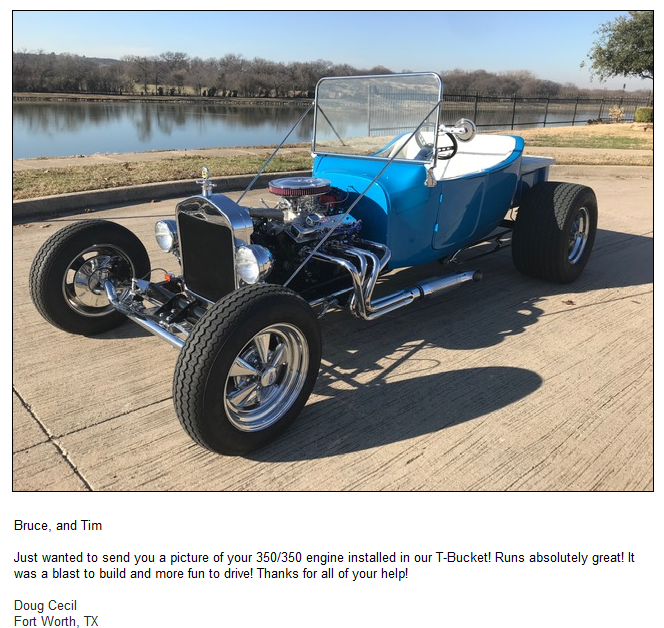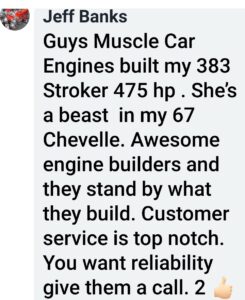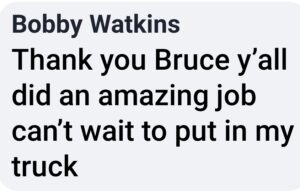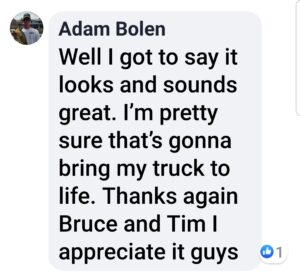 Bruce and Tim  Finally finished…

Thank you very much for the fantastic engine!

What do you think?  Looks Awesome

HARVEY ALLEN

Hi, Bruce and Tim .

I thought you might want some pictures of my car and your engine.

Thanks for a great motor.

Charles Lawrence
Sunday, May 3, 2020 4:29 PM
Subject: It's Alive!
Just wanted to let you guys know I finally installed my engine, I bought it four years ago. Fogged the cylinders with WD-40 and it started on the second crank (I had the kill switch off or it would have started on the first). Great job guys, it sounds fantastic, I had neighbors coming from up and down the street when they heard it start uncapped. Everything you said in your ads and when selling the engine was true. Not a leak, not a miss, no cosmetic defects it simply runs perfect.
Thanks,
James Jones
— 5 star
Being a woman, and being far from a mechanic, I somewhat expected to be treated a bit differently, especially with the many questions I had, but that wasn't the case at all with the Engine Factory family. They were very supportive and helpful in every way. I was beyond impressed with everything about them- from all my phones calls w/questions, fast email replies to even more questions, the email updates of the engine being built, detailed installation instructions, build time, delivery time…..everything. But nothing was more impressive than the engine itself. I wanted to put it in my living room for a few weeks just to stare at it! LOL Just love it! I have another classic car (Mopar) I'm thinking of getting a new engine for sometime in the future and, without a doubt, I'll be calling the Engine Factory again. You guys are simply Top Notch. Thank you again for all that you do and all that you've done. Keep up the outstanding work!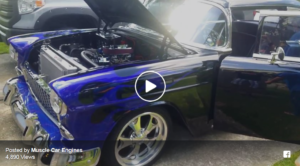 One of customers 1955 Bel Air that we built a Chevy 350 with Dual Quads. Built by EngineFactory.comPosted by Muscle ...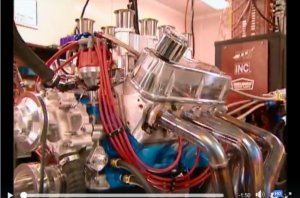 Engine Factory Ford 347 Stroker on Powerblock TV "Trucks"https://enginefactory.com/Engine FactoryPerfecting Muscle Car Engines Since 1969Email: info@enginefactory.comCall: 800-326-6554Posted by Muscle Car ...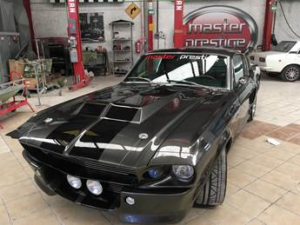 Hi Engine Factory Friends , we are so happy we finish the project Eleanor with your 600 hp engine here ...