Email any of our customers and ask about our Engines and the Tech Support we offer. Look over their cars, watch videos they supplied after installing an Engine Factory engines built especially for them!
Click on customer images below for larger detail view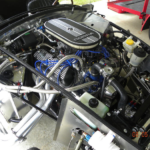 Thanks engine factory for supplying me with a great engine. I bought this engine about 4 years ago and it is rock solid.
I have it installed in my "65" Shelby Cobra replica and it sounds & looks great.
What a head snapper when I step on the gas. I gets lots of positive feedback on this 351W with the polished intake, carb & pulleys.
This engine is the 351W with 400HP that you offer for the Cobra Replicas.
I would recommend it to anyone who has an interest. In fact I have spread your name around to all that have asked me about the engine.
I have a pic of the engine and the car before it went to the body shop. It is now out of the shop and looks and drives awesome.
Thanks again for delivering on your promise.
Best Regards,
Don Munroe Sr.
Don Munroe Sr.