Email any of our customers and ask about our Engines and the Tech Support we offer. Look over their cars, watch videos they supplied after installing an Engine Factory engines built especially for them!
Click on customer images below for larger detail view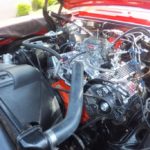 Bruce,
I just wanted to send a follow-up email to thank you for the unbelievable customer service I have received before, during and after the purchase of my 383 stroker. From my initial phone call to inquire about purchasing a motor to the follow up phone calls to finalize and custom tailor the motor to what I wanted, Matt answered every question completely. Matt outlined the whole process and assured me everything would be done as per our conversation. To my surprise everything DID go as Matt said it would, from the pictures of my motor being built, watching it run live on the stand, to the delivery of it. I know I have said this numerous times but my engine purchase had to be one of the easiest purchases I made during the restoration of my 67 Camaro. (Matt, Thanks again for all your help!!) I would also like to thank you for allowing me to trailer my Camaro down to your production facility in Lebanon, NJ for Jersey boyz (Tim, Brad and Rob) to adjust the timing and carburetor 2 years after it was built.
You have a good group of guys up here, all three jumped right in to help get my engine dialed in perfectly. It now starts, idles and runs amazing. Now I can't wait to finish the restoration and put some miles on it! Please post my email in the customer's letters section as another COMPLETELY SATISFIED customer. I still owe the Jersey Boyz lunch or at least a couple of beers.
Sincerely,
Derek D.
1967 Chevrolet Camaro SS
383 Stroker 500hp build
Derek D. 383/500HP