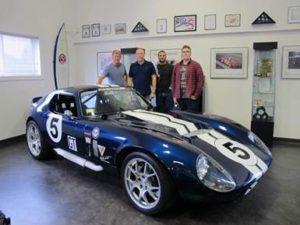 Hi Bruce
I hope you and everyone there at FFR & the Engine Factory are keeping well.
Just a brief note to say a big thanks to you (and the teams behind the scenes) for your help over the past 14 months… following our visit (my son & I) back in September 2015, today I received notification that my Type 65 Coupe (#F5R1000708CPB) is fully road legal here in the UK.
We first started the build on 16th March 2016 – Right Hand Drive / Complete kit / Independent rear suspension / 6.7ltr Ford 418w from The Engine Factory.
Drives & sounds amazing!!! First show booked for July ;0)
Thanks again everyone!
Ian Robinson