Before you consider purchasing an engine anywhere, consider the facts!!! Engine Factory Has Been Building Muscle Car Turn Key Engines For 50 Years. We Are The World's Leader.
The Following Is A List Of Items We Test During The Live Running Of Your Engine. Remember Your Engine Will Be Installed On Our Test Stand And Set To Run Like It Would Be In Your Car. This Means A Radiator, Fan, Exhaust System, Etc. Are All Hooked Up. The Engine Is Started And Run For 45 Minutes. Everything Is Adjusted And Closely Monitored. We Check The Following.
# 1 Oil Leaks Checked
Front Harmonic Balancer Area,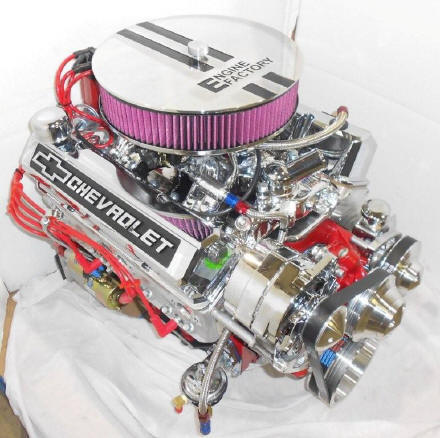 Timing Cover Gasket,
Oil Pan And Drain Plug,
Rear Main Seal,
Rear Cam Plug,
Oil Filter Housing,
All External Oil Plugs,
Intake Manifold End Seals,
Head Gaskets,
Valve Covers,
Distributor Housing And Gasket
# 2 Coolant Leaks Checked
All Freeze Plugs, Block Drain Plugs,
Water Pump, Head Gaskets,
Intake Manifold And Gaskets,
Thermostat Housing And Gasket,
All Hose Connections
# 3 Fuel Leaks Checked
Fuel Pump And Lines,
Carburetor, All Fuel Lines Fittings, Clamps,
Fuel Filter
# 4 Vacuum Leaks
Intake Gaskets,
All Manifold Pipe Plugs,
Distributor Vacuum Advance,
Internal Engine Vacuum Leaks,
Positive Crankcase Ventilation System
# 5 Throttle Response
500 Rpm To 1500 Rpm
1500 Rpm To 3500 Rpm
3500 Rpm To 5500 Rpm
Test For Any Throttle Hesitation
# 6 Idle Quality And Carburetor Adjustments
Adjust Idle Mixture Screws
Adjust Fast Idle Mechanism And Speed
Choke Operation
Adjust Idle Speed
# 7 Oil Pressure Cold And Hot
Test Oil Pressure Dead Cold. Usually Around 75 Psi At 2000 Rpm.
Test Pressure At 100 Degrees.
Test Pressure At 190 Degrees.
Difference Between Cold And Hot – Hot Oil Is Usually Around
20 Psi Lower. This Is Perfectly Normal.
# 8 Coolant Temperature Tests
Check To Be Sure All Air Pockets Are Removed From Block.
Check Water Pump For Proper Circulation.
Test For Any External Leaks.
Check Temperature At All 4 Corners Of Engine.
Test For Proper Block And Head Cooling.
# 9 Vibrations
Each Cylinder Is Balance Tested.
Flywheel Is Checked For Proper Application And Balance.
Harmonic Balancer Checked For Proper Application.
Check For Smoothness Throughout Rpm Range.
# 10 Distributor Timing
Adjust Initial Timing. This Is Done With Vacuum Advance Off.
Check And Adjust Centrifugal Advance Weights.
Check And Adjust Vacuum Advance. Check For Proper Advance At 3000 Rpm. Usually 35 Degrees With Vacuum Advance Disconnected
# 11 Starter And Flywheel
Check For Proper Starter Mounting Bolts.
Check For Proper Engagement Of Starter Into Flywheel.
Check Starter Draw On Hot Engine.
Check For Transmission Alignment Dowel Pins.
Check For Proper Crank Pilot Size, Or Install Pilot Bushing.
# 12 Exhaust Port Temperatures
This Is Important, Port Temps Should Be Similar, A Cool Port Could Mean A Tight Valve, Crossed Wire, Vacuum Leak, Weak Valve Spring, Etc.
Center Exhaust Ports Usually Burn Hotter. This Is Normal
# 13 General Noise Level
We Check For Noisy Valve Adjustments Or Misalignment.
Engine Factory Spends A Lot Of Extra Time Here Adjusting And Aligning The Valve Train To Work In Proper Harmony, Which Results In Years Of Driving Pleasure, And More Power.
# 14 Optional Items When Purchased
Alternator Output, System Should Charge At 14.2 Volts.
Power Steering Pump, We Test For Proper Pressure And Leaks.
We Check For Air Conditioning Compressor Pulley And Clutch Alignment
Serpentine Belt And V Belts Are Checked For Proper Tension And Alignment.
# 15 Overall Appearance
Everything Is Checked From The Oil Pan To The Air Cleaner
Paint, Packaging, Proper Warning Labels Etc.
By Now You Must Be Saying Wow That's A Lot Of Things To Check, Yes It Is. In Total It Takes Us About 5 Hours To Hook Up, Test And Adjust Each Turn Key Engine. We Do It Because We Know It Is The Only Way To Send An Engine. Our Customer's Have Total Confidence In The Product Before Installation.
Do It Once And Do It Right !!!!
Remember If It Hasn't Been Live Run And Hot Tested Your Taking A Chance !!!! Think About It. It's Your Money!!!