LS3 6.2L CHEVY CARB ENGINE
550 HORSEPOWER ENGINE 
We Build our Hi-Tech LS Engine so it can be converted into early
Muscle cars, hot rods, vintage cars, trucks, and race cars.
Easy installations! Runs right out of the box guaranteed!!!
Full installation kits available from Holley, Headers Motor Mounts etc.
No computer or Distributor Needed
MSD coil to plug ignition system
https://enginefactory.com/request-quote/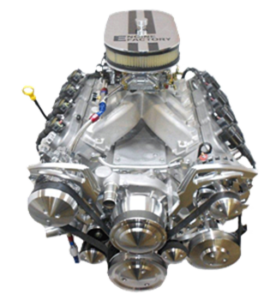 Engine shown with optional pulley system
LS3 6.2L ALUMINUM BLOCK 6 BOLT MAIN CAPS
6.2 HEADS / CNC PORTED / HIGH REV VALVE SPRINGS
3.622 STROKE CRANKSHAFT
4.065 HYPEREUTECTIC PISTON 10.7:1
CONNECTING RODS WITH HIGH STRENTH BOLTS
CLEVITE BEARINGS
NEW OIL PUMP
HI-REV HYDRAULIC ROLLER LIFTERS
1.7:1 ROCKER ARMS
NEW HEAD BOLTS
HYDRAULIC ROLLER CAMSHAFT DUR 219 I /228 EX
MUSCLE CAR OIL PAN WITH WINDAGE TRAY
ROLLER TIMING SET
MINI HIGH TORQUE STARTER
ALL SENSORS, CRANK, CAM
VALVE COVERS
PLUG WIRES, COILS, AND WIRE HARNESS
NEW SPARK PLUGS
SMOOTH VALLEY COVER
HOLLEY INTAKE MANIFOLD
QUICK FUEL 750 CFM CARBURETOR
DISTRIBUTORLESS PLUG-IN IGNITION SYSTEM WITH 58X RELUCTOR
MSD 6LS IGNITION CONTROLLER
CORVETTE BALANCER
CORVETTE WATER PUMP
ZINC COATED FLEX PLATE
ENGINE IS HOT RUN TESTED FOR 45 MINUTES
$13,995.00
https://enginefactory.com/letters/
800-326-6554 – Ask for Bruce