We are now shipping our Cobra and Mustang engines
with Tremec Trans attached.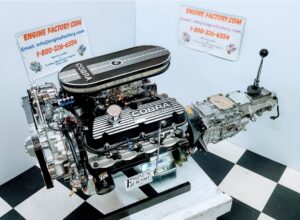 TKX Trans, Clutch bellhousing, Hydraulic slave, Etc. comes with Transmission mounted to engine, shipped on extended pallet .
Engine Factory will supply & install TKX Trans, with 26 spline input shaft, 327 first gear Ratio 72 overdrive ratio, supply and install Ram clutch kit with 26 splines, Steel Bellhousing, Pilot and throw-out bearing, Clutch fork, Hydraulic clutch slave cylinder installed and adjusted, Engine factory will supply and Mount TKX Transmission to the Back of the engine,  It will include Hurst shifter stick, White shifter Ball, on extended Custom shipping Pallet.
New Ford 427W/540HP Carb engine , 4 Bolt main Dart block, AFR Aluminum Cylinder Heads, Roller cam for good Idle, Good Vacuum for disc Brakes, Roller Rocker Arms, Black Block, Blue wires, Cobra Black Wrinkled Valve covers Red 427 badges, Cobra oval air cleaner, Front sump or rear sump oil pan, Supply Mid plate and starter, CVF  Racing Pulley system with 140 Amp alternator, Water pump, 157 tooth Balanced Flywheel, Engine Factory will supply build pictures, videos, and serial number of Dart block, for registration purposes.

Call 800-326-6554 for Pricing